Scurvy, Shipwrecked and Silleman
Welcome to the website about De Gouden Buys. This website is dedicated to the historical and archaeological research that takes place about this ship, her remains and the survivors. De Gouden Buys is shipwrecked in 1693 in the
St. Helena bay in South Africa, and todate still not found. Dutch archaeologists in collaboration with South African archaeologists are looking for the remains of this unique ship with her remarkable story to tell!

Published archival documents:

In May of 1693 the brand new Dutch East Indiaman De Gouden Buys departed the city of Enkhuizen for Batavia. But the crew faced a lot of challenges. Soon a lot of them became sick. Scurvy and Typhoid caused many deaths on a daily basis. Around the equator the wind ceased and the ship had to anchor for weeks. Lack of fresh water and food made the situation worse.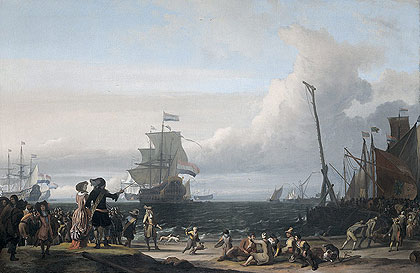 Ludolf Bakhuysen, Dutch ships near Texel 1671,
oil painting, Rijksmuseum Amsterdam
Crossing the Atlantic brought the ship towards the St. Helena bay in South Africa. Because of a North westerly wind it was almost impossible for the diminished and sick crew to sail South to the Cape of Good Hope. Captain Baanman ordered seven men, who were still strong enough, to go ashore and seek help.
After hiking for several weeks Laurens Thijszoon managed to reach a Dutch post with the help of local KhoiKhoi people. Soon after a message was delivered at the Cape Castle that there was a ship in need of assistence. Gouvernor Simon van der Stel ordered a large salvage operation. Four ships sailed to the St. Helena bay. On arrival, Daniël Silleman, the other survivor of the seven men, was rescued from the beach. The salvage ship De Dageraad departed with the seventeen treasure chests and with Silleman to the Cape, but also shipwrecked at Robbeneiland. Silleman also survived this tragedy and he was able to return to Holland eventually.
Back in Holland Silleman told his story to a publisher in Enkhuizen. The journey of the De Gouden Buys and the story of Daniël Silleman were already published in 1695 and became a popular storybook already at that time. Only a few copies of the book are know worldwide today.

After further historical research, Dutch archaeologists contacted the authorities in South Africa in 2006. The intention was to try and find remains of the ship. Not because of personal gain or money interest, as the treasure chests were already taken off board, but from a purely archaeological interest. A ship that is historically well known, has a greater story to tell. Most certainly because of the fresh water installation on board, because of the survivors challenging the rough west coast of South Africa, because of the sheer size and nature of the salvage. A fascinating story, that deserves to be remembered!
Marco Roling BA David Bouman MA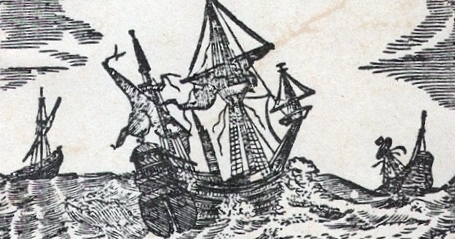 Detail first page of the journal of De Gouden Buys, published in 1718
(Reproduction, Pretoria 1968)